Marsh Lane Harriers Community Running Club
A message from our Chairman
Hello to all our members and followers at Marsh Lane Harriers. To all our new members, wishing you a very warm welcome. As I always say 'Welcome to the best running club in the world' – something I genuinely believe, and this week has emphasised that more than ever (see club highlights as to why!) To all existing members, thank you for your continued support, dedication and efforts. The club is nothing without you We are very lucky to have this club and I'm feeling very proud these past few weeks of how far we have come.


From members competing in races, running Berlin, Chester and Chicago Marathons, to those preparing for Amsterdam Marathon today, those giving it their all on the track - you all continue to amaze me. The commitment, hard work and support for each other is superb. As we continue to grow as a club, let's keep inspiring and supporting each other, showing other clubs how we roll, kicking ass and pushing ourselves but importantly, doing it always with a smile on our face.


As the dark nights creep in and the festivities of Halloween and Christmas fast approach, let's keep putting in the work, leaving it all on the track and the roads and continuing to spread the word of this great club.
Recent Club Highlights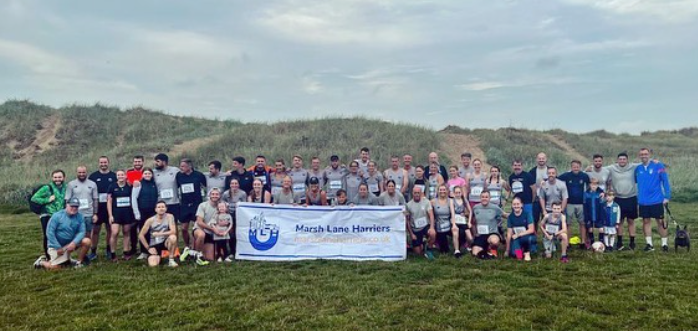 Nathan's Charity Run: As we do every year, the club recently supported Len Wilson, with many of us competing in both the 5k and 10k memorial race for Len's son Nathan who sadly passed away a few years ago. The race took place on 17th September 2023 with hundreds turning up to raise awareness and funds for PAPYRUS: Prevention of young suicide. More information can be found here: https://www.nathanscharityrun.co.uk/ - Well done Len!


Knutsford 10k, Berlin, Chester & Chicago Marathon's: A massive well done to all our club members who took part in these events. Amazing effort, PB's and memories to last a lifetime!


This week's sessions: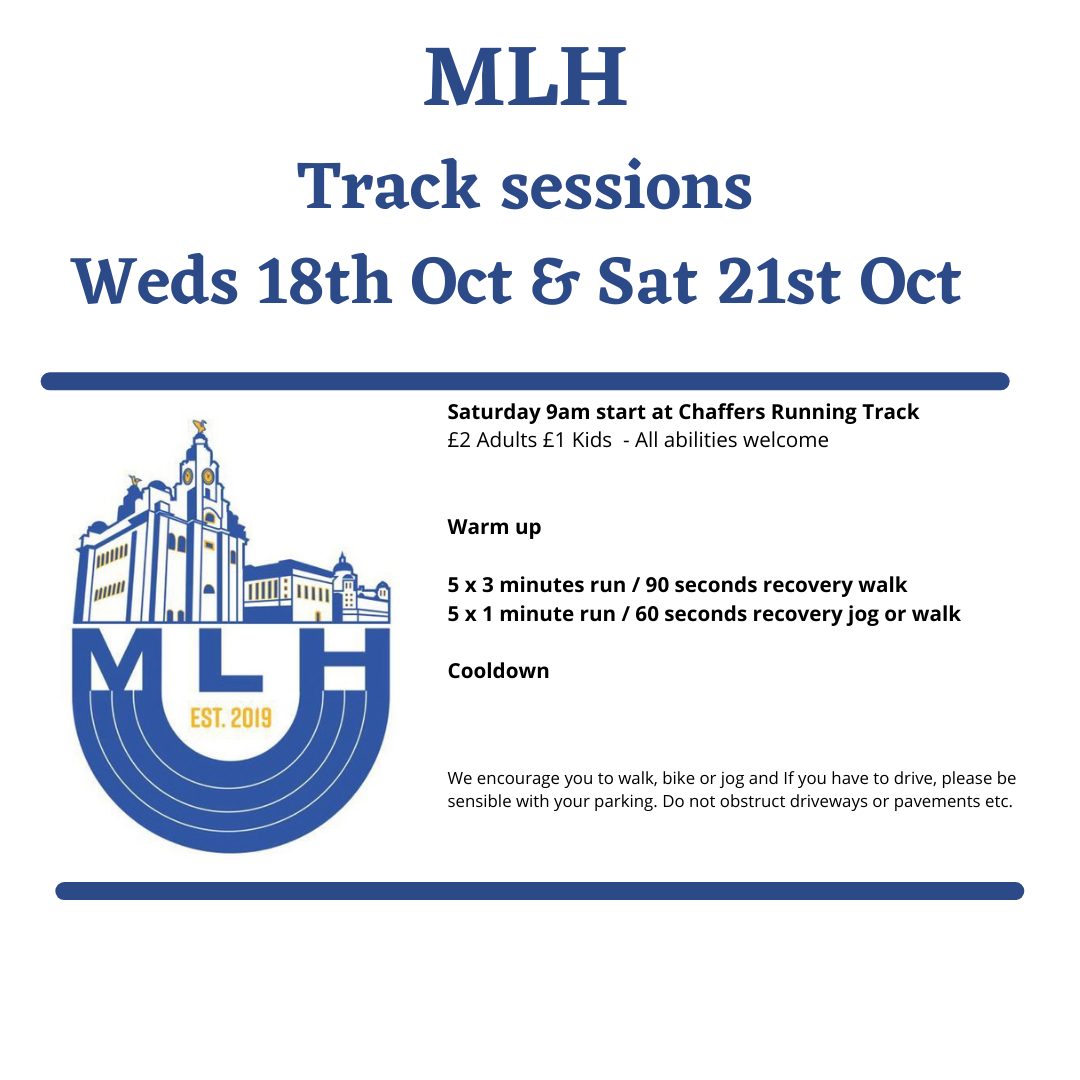 Upcoming Club Events:
MLH Halloween party: October 28th –
6pm til late @ Inside No.4, Crosby


MLH Christmas party: December 16th –
7pm til late @ Inside No.4, Crosby.


Weekly Running Schedule Reminder:
Each week, the club has a series of organised group runs for which everyone is welcome to join:


Every Monday: Monday Club – 6:55pm meet for a 7pm start. Crosby Leisure Centre, 5 miles at a steady, chatty pace. Usually 45 mins at 9 min per mile pace.


Every Tuesday: Tuesday 'Breaky Club' – 5:40am meet for a 5am start. Car park behind Waterloo Train Station, 6-7 miles.Usually 1 hour at 7.45-8min per mile pace.


Every Tuesday: Tuesday Club – 6:25pm meet for a 6:30pm start. Crosby Leisure Centre, 4 miles at a slow and chatty pace. Usually 40 mins at 9 min per mile pace.


Every Wednesday: Wednesday Track Session – 6:00pm start. MLH Running track, Chaffers. A mix of speed and interval sessions which changes weekly. Catered for all abilities.


Every Friday:Hills & Drills – 05:55am meet for a 6:00am start. 65-minute session including 3 x 2 drills and 8 x 8 10 second hill sprint with a 2:30 recovery walk.


Every Saturday: Saturday Track Session - 9:00am start. MLH Running track, Chaffers. A repeat of the prior Wednesday session. Catered for all abilities.


Sunday Service: Sunday Service is a run which usually takes place every Sunday morning. Due to training for various events, the Sunday run is now more flexible and ad-hoc. To stay on informed about Sunday plans, the MLH WhatsApp group is the best source of information.


Closing Announcements:
Newly Formed Committee: As of this month, we move forward with a newly formed committee comprising long standing club members; Vicki Burke, Mel Spelman, Ste Robbo, Chris Blackie and Simon Poland who join existing committee members; Andy & Charlotte Barton, Ross Armstrong, Kirsty Elliott and John Carragher (Chairman). As a committee, we aim to maintain our status as the best running club in the world, constantly looking at ways to improve the way we do things whilst creating a fun, welcoming and inclusive community running club open for everyone to enjoy.


A Huge well done to Jessica Dowle: Everyone within the club would like to say a huge well done and congratulations to 9-year-old Jessica Dowle who completed her 7K a day Step Challenge, from 1 September 2023 to 7 October 2023, raising awareness and vital funds for Colostomy UK – a national charity that offers support and advice to people with stomas and to their families, carers and friends. Jessica is such a huge inspiration, having lived with a stoma for nearly 5 years herself, she completed such a fantastic challenge, a selfless one to give back and help others. It was a privilege for members of both MLH and Rimrose Runners to support Jessica as she completed her challenge at the track last Saturday. Well done Jessica! You're an inspiration and a true Harrier! You can still support Jessica here: https://www.justgiving.com/page/jessica-dowle-1693073224210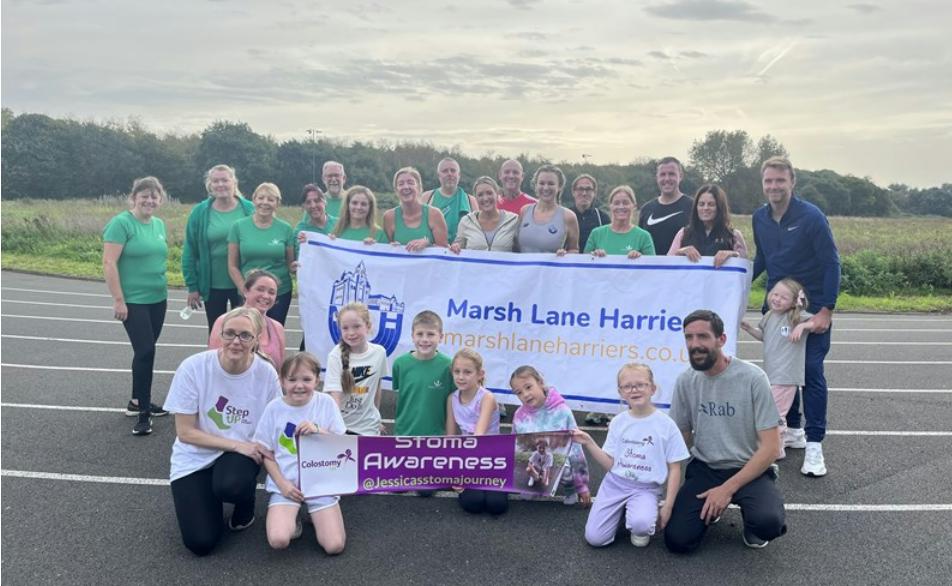 Birthday Wishes: A trio of 40ths recently with our Chairman John, Tony Owens and Mel Spelman celebrating their birthdays and showing us age is just a number whilst still smashing it on the track.
I think John is still celebrating his! We also had Jay Cunny, Ste Robbo, Bhav, Simon Poland, Michael Cassidy, Chris Blackie, Josh Monaghan, Jay Hartley, Yozza & Ross in a flurry of back-to-back birthdays so here's wishing you all the very best from everyone at the club and we hope you all enjoyed plenty of beer in true Harrier style
That's it for this week, thanks all! Keep putting the miles in and keep supporting each other!
All the best!