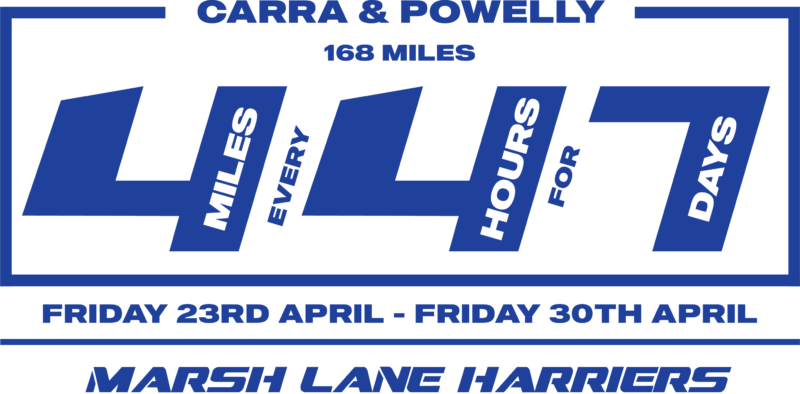 This event is now completed.
Donations are still being accepted as plans continue for the development of the area.
All donations received will go to the restoration of the track and facilities. The plans for the area include:
Full restoration of the running surface
Installation of floodlights
Pavilion with changing rooms and car parking
---
The Chairman and the Coach don't take on small challenges.
John Carragher and Michael Powell are currently running 4 miles, every 4 hours for 7 days – a physically and mentally challenging event aimed at raising awareness and donations for the restoration of the Chaffers running track at Rimrose Valley.
John Carragher said: "We have ambitions to raise a substantial amount of money to restore the running track. Powelly and I are going to do everything we can to give this fantastic cause the greatest exposure we can do.
"It's going to be a tough one and a tiring one but I'm sure it'll be totally worth it."
The boys will have a series of routes they'll run throughout the local area during the week and will be looking for people and  businesses to offer support and cheer them on as they pass by.
Michael Powell said: "The track is already becoming a hub for local people and this will become even more important this summer as the lockdown restrictions are eased. We want everyone to get behind us and donate whatever they can to really help this community project develop into the vision we know can become a reality. "
The first run started at 8pm on Friday 23rd April with a grand finale finishing at Bootle FC on April 30th.
Take a look at the table below to see who is running with us and when during the week long challenge.
If you'd like to book a slot to run with Powelly and Carra please email events@marshlaneharriers.co.uk with your preferred time and date.
Friday
23/04/2021
Saturday
24/04/2021
Sunday
25/04/2021
Monday
26/04/2021
Tuesday
27/04/2021
Wednesday
28/04/2021
Thursday
29/04/2021
Friday
30/4/2021
12am
Darren Ilott

Shaun Chart

(KINGSWAY)
Jay Murphy

Sam Jones

Ste Robinson

(THE ALEX)
Stephen Warnock

Cameron Cox

Andrew Soutar

(THE ALEX)
Jonathan Marsh

(LAKESIDE)
Stephen Warnock

Jose Baxter

(TESCO EXPRESS LIVERPOOL ROAD)
Joe Mathison

Stuart Aitken

(THE ALEX)
4am
Anthony Owens

Greg Edwards

(THE ALEX)
Louie Farrell

(THE ALEX)
Mark Lyons

Thomas Gaffney

(LAKESIDE)
Ste Robinson

John Tobin

(LAKESIDE)
Andrew Murphy

Chris Blackburn

Toddy

(KINGSWAY)


Jay Hartley
Dayana Carragher
Kirsty Elliott
Rachael Riley
Lee Mullin


(THE ALEX)
Joe Mathison
Greg Edwards
Lee Delaney
Anthony Delaney
Stephen George

(KINGSWAY)
8am
Adam Lythgoe

Kieran Keating

(THE ALEX)
MLH Team

(Crosby Leisure Centre)
Simon Poland

(THE ALEX)
Phil Steele

(LAKESIDE)
Martin Oleary

(KINGSWAY)
Tom Allan

(THE ALEX)
Simon Poland

Jack Rigby

(LAKESIDE)
12pm
Charlotte Barton

Andy Barton

Terriann Allen

(THE ALEX)
Graham Bretherton

Jude Bretherton

(THE ALEX)
Sam Jones

(LAKESIDE)
Callum Smith

(LAKESIDE)
Gary Judge

(KINGSWAY)
Danny Morgan

Marc Hulligan

(THE ALEX)
Everyone welcome

(CROSBY LEISURE CENTRE)
4pm
Anthony Delaney

Stephen George

(THE ALEX)
Jack Butterworth

Danny Griffiths

(Kingsway)
Robin Miles

(LAKESIDE)
Ross Armstrong

Michael Lynch

(LAKESIDE)
Sam Jones

Ellisha Howard

(LAKESIDE)
Simon Magill

(THE ALEX)
The finishing line at
BOOTLE FC
8pm
Jamie Carragher
Dave Moran

(THE ALEX)
Ian Johnson

(Kingsway)
Andy Grant

(LAKESIDE)
Jack Butterworth

Callum Sutton
(LAKESIDE)
Danny O'Leary

Joe McEvilly

Ste Pardoe

(LAKESIDE)
Peter Wilson

Dan Clegg

(Lakeside)